Yarn Over Stitch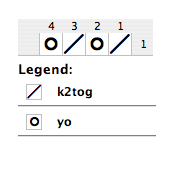 Places where you will find yarn overs:
Increases: A yarn over is a common way of increasing the number of stitches. It is the simplest increase made between two existing stitches. On following rows, the yarn over will be knitted, making a new stitch. There is a disadvantage to this though. A small hole (eyelet) is created where the yarn over is. This hole can be diminished by twisting the yarn over stitch which will be a result similar to a make1 stitch.


Elongated stitches: You can knit a row of elongated stitches that will result in a horizontal stripe. However, when this row is combined with a yarn over on the next row, it will create a diagonal stripe. Because you can make long elongated stitches when combined with a yarn over several rows later, could create a pattern for flower petals on the diagonal.


Lace: Yarn overs are common in lace since this is a way of creating holes that will hold securely in the fabric.


Plaited stitch: Yarn overs will result in a plaited stitch when it is knit in the next row. Since loom knitted works the back loop of the stitches, this is generally how our yarn overs are done.


Tucked stitch: Yarn overs are a fun way to slip stitches without passing the yarn over the front or back. A combination of a yarn over and a slipped stitch will result in a tucked stitch where the yarn is slipped over the slipped stitch instead of slipping in the front or back. These tucked stitches are the basis of brioche knitting.
It is important to setup your row of stitches before knitting off so that the yarn overs, slipped stitches, etc. will be in the proper place. Trying to do it as you go will make knitting some of the stitches difficult to impossible.
Pick up the wrap on one peg and place it on the peg next to it. There is now an empty peg and either a peg with two wraps or the rest all have one wrap.

If the yo is used to increase the fabric, there will be one wrap on each peg except for the empty peg where the yo is worked; if the yo is used to create lacy fabric, there will be one empty peg where the yo is worked, two wraps on a peg to the left or right of the yo and the rest of the pegs will have one wrap.

Make sure to wrap the empty peg when knitting the row to knit off in the next row.