Reverse Stockinette Stitch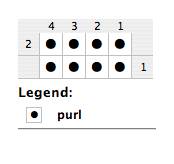 This stitch is the opposite of the stockinette stitch. On the loom, it is made up of all purl stitches, unlike the stockinette which is made up of all knit stitches (or in the loom's case, all e-wrap stitches).








See Reading Charts if you are not familiar with how to read a pattern.

Worked over any number of sts.
R1: Purl across.


Repeat R1 for pattern