Stockinette Stitch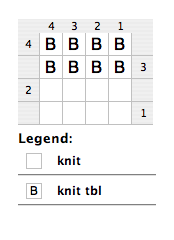 The stockinette stitch, also known as Jersey, is the most common stitch found in knitting. It makes a distinctive "V" pattern on the right side of the fabric. It will curl unless there is ribbing (such as single rib or double rib) or another evening-out stitch such as the garter stitch at the ends. This is one reason why you add the garter stitch to your swatches. If you want the rolled look, maybe for a hat, then use this stitch without an evening-out stitch on the borders. This stitch is done by working the knit stitch, flat stitch or k tbl (e-wrap) stitch on all of the rows. The easiest is working the k tbl (e-wrap) stitch but the choice is yours. The example chart to the right shows both but you should choose one and use it throughout the project.




See Reading Charts if you are not familiar with how to read a pattern.

Worked over any number of sts of 2 rows
R1: Knit across.


Repeat R1 for pattern.