Elongated Stitch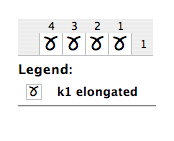 This stitch is related to the e-wrap stitch and is completed over two rows. In this stitch, you single, double or triple wrap depending on what the pattern calls for, and then unwrap it on the next row.






Each stitch must be knitted separately for this stitch.
Wrap peg 1 and knit off.
Wrap peg 1 again with 1 to 3 times wraps (depending on whether the pattern calls for a single, double or triple elongated stitch).
Move to peg 2 and wrap peg 2 once.
Knit off peg 2.
Repeat the first 4 steps for the number of elongated stitches. It's not uncommon for an entire row to be elongated stitches.
After you finish the row and start the next row, unwrap the extra wraps on the row and let the wraps fall to the inside of the loom.
Wrap and knit off the row as you normally would.
The stitches that were elongated are double the length as the other stitches.